Aldi had this great special on, about a month ago, selling an unusual pack of two Cedar Grilling planks, one long one and one short.
Lots of people (and all of my neighbours) know about Aussie-Grilling.com, so they snapped them up from our local Aldi in just a day or two.
At Aussie-Grilling.com, we specialise in Cedar Grilling planks and Redgum Grilling planks, so we were very pleased with the interest generated by Aldi in Australia. A number of people tried the Aldi/Stonemill Grilling Planks (pictured) and were converted, so we received a number of enquiries.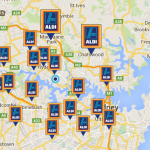 The map shows how many Aldi stores there are in Sydney alone – so it's just great that there are so many new Grilling afficionados –  so many more people now know about Cedar Plank Grilling.
Unfortunately the Aldi special has come and gone – but Aussie Grilling sells Grilling planks all year round, also in winter, so all is not lost.
The nearest equivalent to the Aldi product is our salmon-sized twin pack, which weighs 600g (compared with the Aldi pack's 500g) and it can be used to cook two large fillets of Salmon twice as many times (because it is 2cm thick instead of 1cm):

If you are an experienced Plank Griller or if you want the very best,
try the large Redgum planks
, which are big enough to grill two large Kangaroo steaks – they weigh nearly double the Cedar, at nearly 1.2kg – because Redgum is a hardwood and can be used more than twice as often – up to 8 times if carefully soaked and not allowed to burn:
Mention "Aldi" during checkout and we will send you a free pack of Northern White Cedar:
(while stocks last)

Other products can be found at the Aussie-Grilling shop.
---
Apologies to customers outside Australia, the tyranny of distance makes postage quite expensive however, Aussie-Grilling.com is the only place in the world where you can purchase Aussie River Redgum Grilling planks.