BBQ Salmon with Chilli, Orange and Tomato
BBQ Salmon with Chilli, Orange and Tomato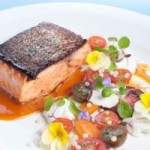 Prep Time : 15 minutes
Cook Time : 5 minutes
Yield :

4
Instructions
Combine the orange juice and cardamom pods in a small saucepan.
Bring to a boil, reducing to half a cup.
Keep warm and whisk in the cubes of cold butter, set aside in a warm place until needed.
Whisk together the chilli paste, mirin, olive oil and salt.
Pre-heat a BBQ plate, coat the salmon portions with the mix and grill on the BBQ for 2 minutes.
Turn over and grill for a further 3 minutes, keeping the centre moist and glossy.
Smear the plate with two tablespoons of the sauce, top with a salmon portion and finish with the tomatoes, mozzarella, flowers (if available), cress and a scattering of salt.
Print
More great Salmon recipes can be found at: Huon Salmon